Rockhaven is one block from Washington St., the main street in historic Harpers Ferry, so it is quiet yet still close to all the action. The fact that our property doesn't overlook the river means you won't be awakened by train whistles in the middle of the night.
Special Events at Rockhaven
Sweethearts Brunch & New Guest Suite Open House
February 10, 10:30 am – 12 noon
900 Fillmore Street
Enjoy a delicious and hearty brunch with your favorite someone or group of friends here in a unique and welcoming historic home! Catered by A Step in Time Bake Shop, the brunch buffet will include Terri's famous pepperoni rolls, rum rolls, breakfast casserole and more. While you're here, check out our brand new Studebaker Suite with a garden-level private entrance. The public is invited to tour the suite at no charge between 11:30 and 1:00.
$25/person
Paid reservations for brunch are required in advance. Request tickets now.
Rockhaven B&B overnight guests staying on Feb. 9-10 will be eligible for a $5/person discount on brunch tickets.
Spring Tea
April 28, 3 – 4:30 pm
Mother's Day Tea
May 12, 3-4:30 pm
In the Area
At the bottom of Washington St. is the Harpers Ferry National Historic Park, which the locals refer to as "Lower Town." You can walk (if you don't mind the hike back up the hill) or park over at the National Park Visitors Center ($10 fee) and take the shuttle to Lower Town.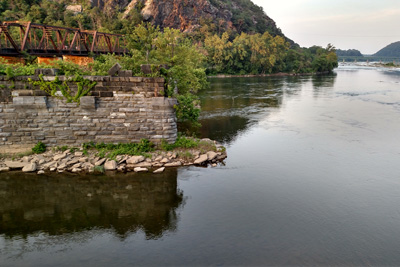 Only a few yards away is the former Storer College campus (now occupied by the National Park Service), as well as the Appalachian Trail and the AT Conservancy headquarters. A stroll further down the street takes you by historic homes and buildings, and at the end of the street is the oldest cemetery in town, just above Jefferson Rock. The views of Lower Town Harpers Ferry and the two rivers is great from there!
Nearby activities:
Historical Town and Battlefield Sightseeing
White Water Rafting
Canoeing
Kayaking
Hiking
Fishing
Antiquing
Zip Lining
Dining
Shopping
Vineyard Touring and Tastings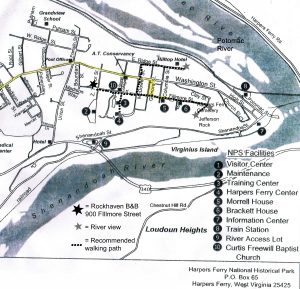 Contact us with questions: info@rockhavenbnb.com
*Note that a full-price ticket is required of all members of your party over the age of 1 year old.
We love kids, including yours. Please be aware that small event is being hosted in our home, with breakable decor and not much room for active children to stretch their wings.  Children are welcome if you judge they will be able to sit quietly at a table for a long stretch of time, and you don't mind paying for a full-price ticket to bring them along.
REQUEST YOUR TICKETS HERE
6% WV and 1% Harpers Ferry Sales Tax will be added to your ticket order at the time of payment.
Email info@rockhavenbnb.com with the following information:
First and Last Name
Number of Tickets and Name(s) of Guests
Contact Phone Number
We will send you back a Paypal.me link where you can make your payment.
Your seating is not reserved until  payment is received.
If you prefer not to use Paypal, say so in your email, and we will call you to take your credit card information.  Or call Rockhaven B&B directly at (304) 535-8235.
(Local residents can request to pay in person in advance.)