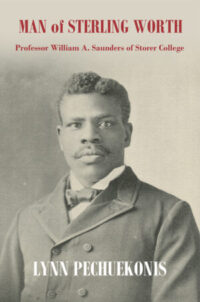 UPDATE OCTOBER 2022: This story has been expanded and turned into a beautiful new book. You can order your copy from the Harpers Ferry Park Association Bookshop.
---
"… So now, students, it is necessary to make use of every moment that comes to us; for while the present is great and grand the future to which we are looking will be more great and grand if we have the determination to make it so."
Knowing something of the times in which he wrote, we are amazed and inspired by the optimism of the young Black man who authored these words as he completed his education at Storer College in 1895. He was William Allen Saunders, age 25 at the time, who later became the original owner of our home. We are excited to share with you what we have learned about him and his wife.
Saunders was born on January 15, 1870, the son of Hezekiah and Louisa (Thompson) Saunders, who were almost certainly recently freed slaves. They lived near the historic town of Louisa, Virginia, along today's U.S. Route 33. Judging from what we have learned of William's life, they must have instilled in him a thirst for education along with an incredible capacity for hope.
Saunders arrived in Harpers Ferry to finish his secondary education at Storer in the early 1890s. Shaped by his time in this oasis from the harsh world of Jim Crow laws, he was brimming with confidence about his prospects in spring 1895. As a co-editor of the Storer Record, his writing clearly reflected the character and leadership promoted by the school. In his farewell editorial, he encouraged his fellow students, especially those who were worried that their "great hope of being rewarded" for their academic labors might not be realized due to the "present condition of affairs in the country": Continue reading "Rockhaven's First Owners"