Ever since we moved into this house, we've been trying to piece together the history of its original owners, William and Inez Saunders. As we've shared in past posts (here and here), the couple were both Storer College alumni and educators, and William was a distinguished member of the Storer faculty for four decades.
Since last writing about them, we have uncovered a good deal more information about William. Our first big leap forward came last June, when the grandson of Carrie Dennis visited for a night's stay. Carrie's husband was a plasterer who had worked on this house. They lived just across the street, and her grandson told us Carrie spent years longing to live in the big stone house.
She got her wish in 1962, when "The Prof" (as he was fondly known to the Dennis family) was in his nineties and finally ready to sell. Carrie, by then a widow, evidently moved in with much of Saunders' furniture, books, and more still in place. More about that later…
The grandson remembers visiting here as a youth. He explained to us the closeness of the African American neighbors living on this block at the end of Fillmore Street in a predominantly white town – how they were all like family, related by blood or not.
The next stage of discovery came last fall, when we received an email from Bates College writer Jay Burns. He said he had written about William (with some minor help from our own blog posts). It turns out that after completing his preparatory years at Storer in 1895 William went north to Bates for his undergraduate degree. Saunders' choice of Bates was likely influenced by Storer founder Nathan Cook Brackett and his wife Louise, who had both attended Bates . The college had graduated its first African American in 1874.
Not only was Saunders a scholar (serving as librarian of the literary society Eurosophia), he was quite the athlete. He competed in track & field (hammer and shot put) as well as in football. In his senior year Saunders became the star of a particularly important football match-up with rival Bowdoin College. Here's an excerpt of Burns' article, beginning with a quote from the student newspaper:
"Time and again the giant guard, Saunders, went into the line and always for a gain," said the Student. "Saunders played like a fiend," reported the [Lewiston Evening] Journal. "It always took two men to bring him down." (Though not big by today's standards, Saunders, at 5-foot-10 and 173 pounds, was among the tallest and heaviest Bates players.)
That story led us to the Bates Muskie Archives and Special Collections Library, which was a treasure trove. The archivist kindly sent us a wonderful 1936 letter in Prof. Saunders' handwriting to former classmate and Bates professor Fred Pomeroy. Our favorite part is the mention of the garden.
He wrote that he had sent "by parcels post a few home grown sweet potatoes," which he had cultivated in his garden spot. "[I] grow all of my potatoes – both white and sweet and a good many other vegetable [sic] that help out in my expense budget," he continued. "Hope these may get to you in good condition and that you may find pleasure in eating something grown by an old friend of by gone days."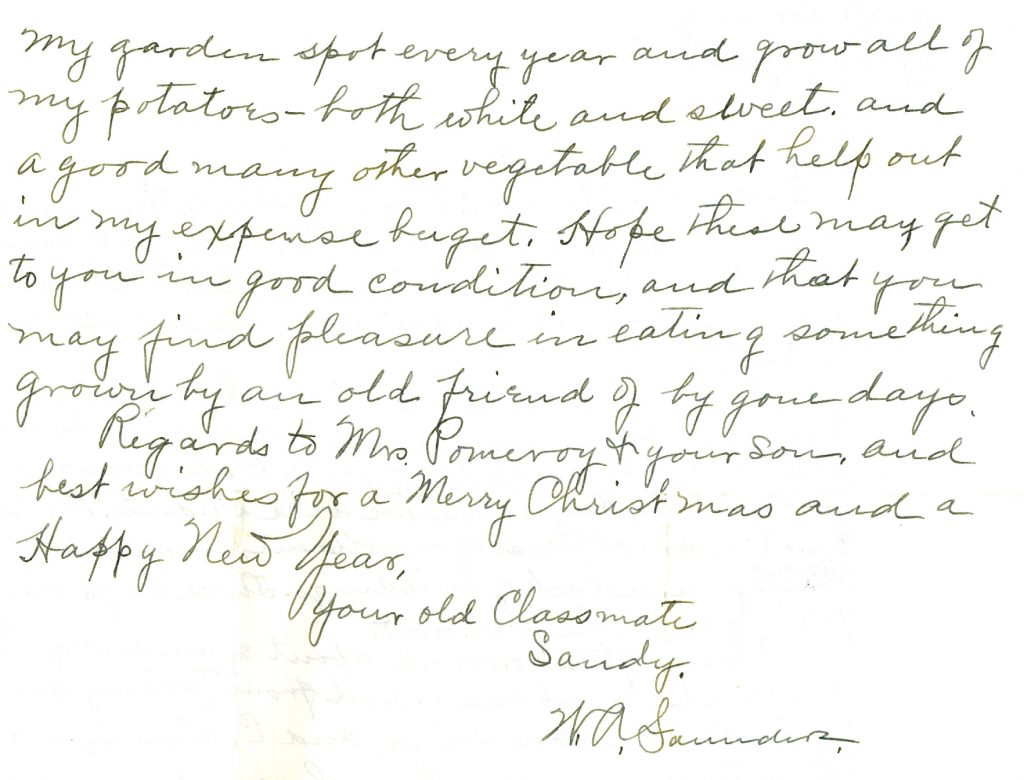 The Bates archivist also shared with us nine poems written by Prof. Saunders that had been published in the 1930s in The Valley Churchman, a newspaper printed in Paige County, Virginia. The publication reported on religious activities throughout the Shenandoah Valley (per a post by George Jenkins). We made an instant connection with Saunders' poem "Before the Fire," since we enjoy that same fireplace today. It's a unique and beautiful feature of this house.
…How restful 'tis to sit just here
Before the open fire place,
And watch the tongues of flame arise
As if they strive to run a race….
'Tis pleasant thus to sit and think
How fortunate has been our lot;
For out of doors 'tis biting cold
But sitting here we feel it not…
Especially touching was "Christmas Cactus Blooming," which Saunders wrote in 1938. The absent "friend" he refers to is Inez, who had died at age 49 only a year earlier:
…But as I sit and watch thy blossoms ope
I note the absence of that constant friend
Who just one year ago did watch thy buds
Unfold and show their three-part petals red…
But loneliness is mine at this glad time
Because my well respected friend is gone
And will to me no more return to see
Thy beauteous flowers obey the voice of Him
Who marks the sparrow's fall…
How lonely this big house must have felt to him, yet he stayed on another quarter of a century.
We then went back to the archivists at the W.Va. and Regional History Center at WVU to see if they had finished digitizing the Storer collection there. They sent us the script of the address Saunders presented at Storer's Twentieth Founders Day celebration. From this and much of his other writing we've seen, we know that he was a devout Christian man. Here's how his address began:
When I first set foot upon Camp Hill [location of Storer] to me it was like landing in a new world. The place was strange, yet beautiful. The people and environment were like nothing I had ever experienced before. … I remember the morning I first attended chapel and was assigned to classes. I remember the mornings that followed. I remember some of the selections that Dr. Brackett would read from the Bible …
He went on to quote those Bible passages at length. He then ended his address with a beautiful poem called "God Lives" by Bertha D. Martin.
The WVU center also sent us some great photos of the professor posing with the editorial staff of the Storer Sentinel yearbook, and we learned from another photo that he coached the football squad during the 1908-09 academic year. It makes perfect sense knowing that he played so well in college.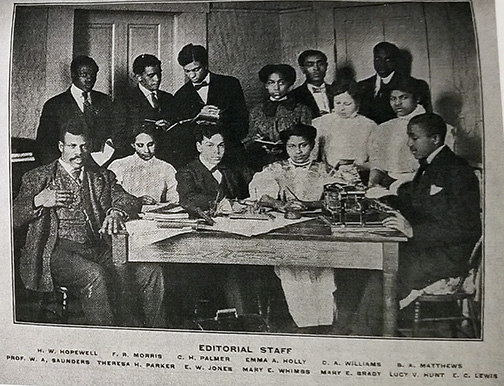 To top off our exciting 2019 finds, we acquired an actual piece of Saunders' furniture and brought it home. In the early 1980s Carrie Dennis had sold an armoire from a second-floor bedroom (among other pieces originally owned by Saunders) to a local antiques dealer. The dealer had kept it in her home, and when she tracked us down and offered us the opportunity to buy it, no way could we turn her down. It now commands pride of place in our entry hall, and we feel very blessed to have it.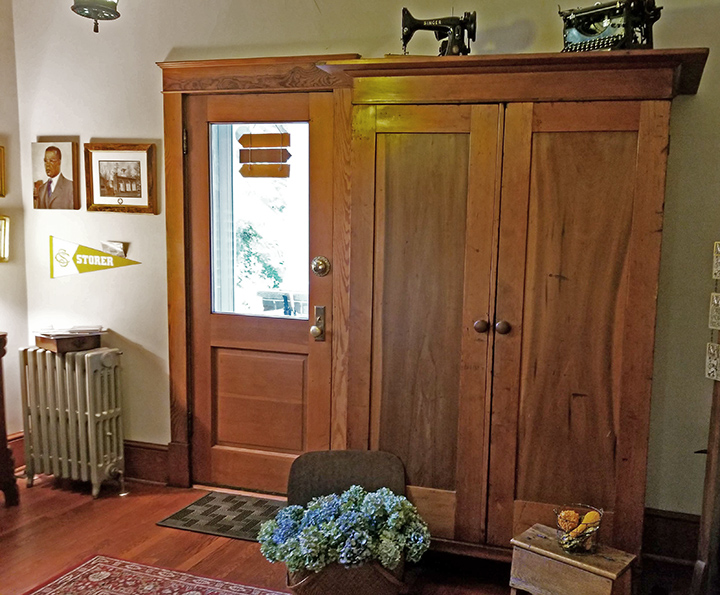 We're happy to share our binder of Saunders history if you would like to peruse all the information we have collected. It even contains scans of a couple of 1866 documents mentioning William's father.  Just ask when you come visit!
(We made a couple of updates to this post on February 10, 2020, based on newly acquired information.)