(We updated this information on 9/18/18 and again on 1/14/19)
Christian and I love good food, and we love to support local businesses. Want to know which ones we like best? Here is a list of our top five favorite local lunch spots to help you out in case you are looking for recommendations. We actually have more than five favorites, but we're saving some of the restaurants that also serve dinner for a future post.
Delicious bread is an important lunch ingredient for me, which makes these first three establishments especially high on my list.
Be aware that in a small town like ours, many restaurants and cafes are closed on Mondays and/or Tuesdays, especially in Lower Town, so check opening hours anywhere you plan to visit locally, especially during the months of November through March. The  opening days listed in this post are as of today and are subject to change.
Battle Grounds Bakery & Coffee
186 High St, Harpers Ferry, WV
This café, which is also down in Lower Town, opened in 2017 and gets super reviews from their customers. They serve soups and delicious sandwiches on fresh bread. They also have bagels, pastries, ice cream and, of course, great coffee and tea. Plus, they win the prize for the most clever pun in their name!
They are currently open 7 days a week.
Rations Café
1102 W Washington St, Bolivar, WV
Rations opened last spring in the building that previously housed the Guide Shack Café, right next door to A Step in Time. They serve ready-to-go salads and croissant sandwiches and soups, but Sarah will custom-make a couple different wraps for you. The bacon  avocado wrap is worth going for. I also highly recommend the raspberry vanilla nitro-cold brew. It is so smooth I can drink it straight without sugar or even creamer – which is saying something for me! The cafe has a fun vintage/military vibe. It's also an easy walk from here.
They are opened Wednesday to Monday, which makes them a great addition to the Upper Town options.
AS OF SEPTEMBER 2018, THEY ARE STOCKING PEPPERONI ROLLS MADE BY TERRI WILSON AT A STEP IN TIME BAKE SHOP, WHICH HAS MOVED TO RANSON.
Kelley Farm Kitchen
1112 Washington St, Bolivar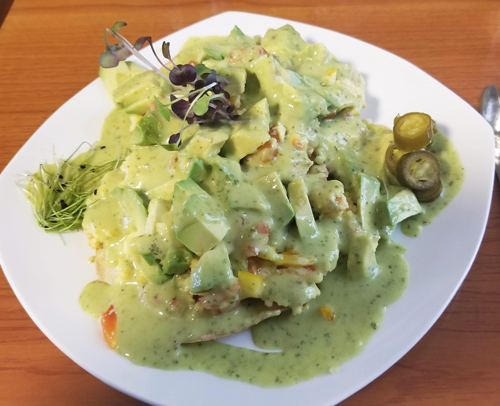 Our newest addition to the local food scene, owners Ben and Sondra whip up amazing vegan dishes. The small restaurant has very few tables and is very popular because all their food is so good, so there are often waits for seating. You may want to order take-out and bring it back here to eat.
They are currently open Thursday-Monday, 11 am to 9 pm (Sunday 12-8 pm). 
Check them out on FB @KelleyFarmKitchen.
Beans in the Belfry Meeting Place and Cafe
122 W. Potomac Street, Brunswick, MD
This cafe in a converted church building is about 8 miles away across the river but well worth the drive, and Brunswick is a quaint little town to visit. Their menu includes a good-size selection of delicious lunch options (including quiches) and lots of hot and cold drink options. I love the Bombay pita with curry chicken salad. For Sunday brunch, they have live jazz musicians playing (and also occasional long lines). Their case of scrumptious looking pastries is nearly irresistible.  We fell prey to the caramel apple walnut pie last week and did not regret it.
They are open 7 days a week and also serve during breakfast and dinner hours.
More Great Places to Eat
The Harpers Ferry area has lots more great places to eat that we didn't include here. We eat at Mena's Pizzaria for lunch all the time, for example, but we're saving her place for a feature in our upcoming dinner favorites post.  The Country Cafe in Bolivar out near the Visitors Center is good too.  The Canal House in Bolivar is so new that we haven't made it there for  lunch yet. There are also some restaurants down in Lower Town we haven't tried.
What is your favorite place for lunch around here? Tell us in the comments!