Harpers Ferry is a small town with fewer than 300 residents, and businesses in the Lower Town historic area are highly dependent on tourist traffic – all of which means that many businesses close by 5 or 6 pm (and are not open at all on Mondays), so nightlife is pretty limited within the Town limits.
If you aren't exhausted by a day of hiking, biking, tubing or exploring our history and want to go out in the evening, here are the closest local options. A few are walkable; some are within a 6-mile drive.
Walking at Night in Harpers Ferry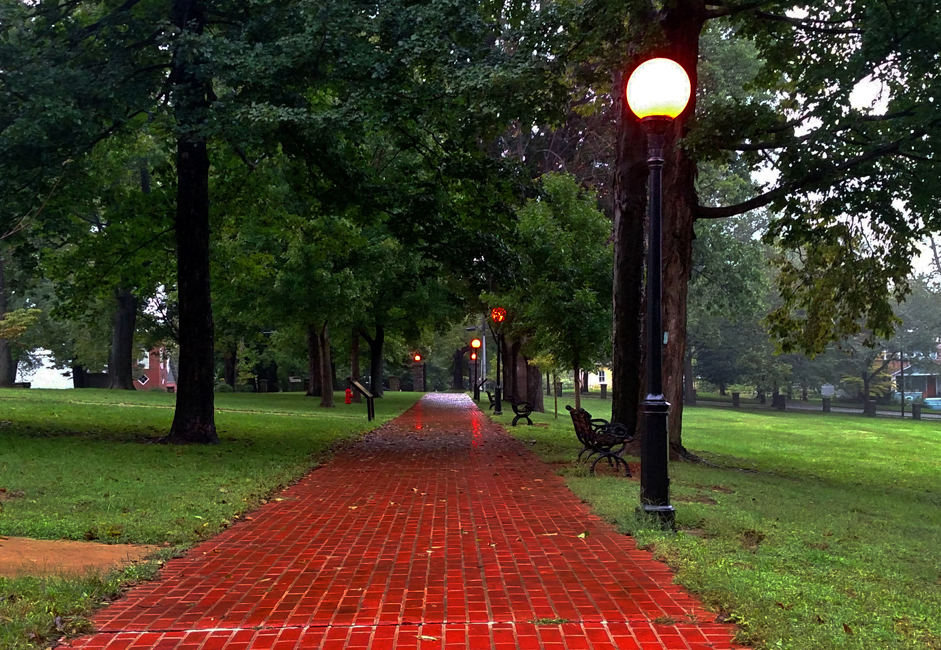 Harpers Ferry is a lovely walking town, day or night, and you can feel quite comfortable, especially when accompanied by a friend. Automobile traffic is minimal, especially off Washington Street.
If you are walking around after dark, however, you might want to carry along a flashlight with you (there's one in your suite you can borrow). The townsfolk here hate to contribute to light pollution, and what streetlights we have are often not well maintained. Dim light combined with aging, cracked sidewalks can easily trip you up.
Ghost Tours of Harpers Ferry
This tour is a favorite of overnight visitors to Harpers Ferry and bills itself as the "oldest ghost tour in America." The approximately 100-minute tours begin promptly at 8 p.m. outside St. Peter's Catholic Church in Lower Town and are conducted year-round, with a few exceptions, Monday-Saturday. It's always a good idea to make reservations, especially during the off-season months.
You can check out their reviews on TripAdvisor.
Website:  harpersferryghost.20m.com
Check Facebook for more up-to-the-minute information: @GhostToursofHarpersFerry
If you like that kind of thing, you might also enjoy a moonlight walk in the Harper Cemetery at the opposite end of Fillmore Street from us.
The Barn
If you are looking for some social interaction, maybe a drink or two and some entertainment, The Barn is your answer. Located on Washington Street, just over the Town line in Bolivar, The Barn has a full bar and cold local beer on tap. They are open Thursday-Sunday, 4-11 p.m. Every Thursday they feature live music, as well as on many Saturdays. Friday nights often have special themes or events. The bar has light appetizer-based fare, such as charcuterie boards, local fresh salsa, and the famous WV pepperoni roll!
Website: www.harpersferryeventbarn.com
Check Facebook for more up-to-the-minute information: @hfeventbarn
Guide House Grill
The Guide House is just over 2 miles away from us over in Knoxville, MD. In addition to serving great food until 9 pm Wednesday-Saturday (8 pm on Sundays), they have a bar that is open until midnight Thursday-Saturday with a limited late night food menu. They offer live music on Thursday and Friday nights. All cocktails are half price all day every Wednesday, and many of their drinks feature our local Bloomery SweetShine.
Website:  www.guidehousegrill.com
Check Facebook for more up-to-the-minute information: @GuideHouseGrill
Hollywood Casino at Charles Town Races
If you want something really out of the Harpers Ferry mode, you might try the Casino over in Charles Town, about 6 miles away. In addition to gaming, they feature nationally known entertainment acts on Saturdays and some Fridays. The H Lounge offers Friday and Saturday live entertainment and regional DJs. There's also the Skybox Sports Bar.
Website:  www.hollywoodcasinocharlestown.com
The Stay-In Option
Remember that if you prefer to stay in, your suite at Rockhaven B&B has comfortable seating in the living area as well as DirectTV and an assortment of books, games, magazines — even conversation starters for couples seeking to reconnect.
If the weather is right, you may find that sitting outside enjoying the peaceful solitude (with a glass of wine?) is the best choice of all. (In early summer, the firefly action is amazing.)
We hope to see you soon!