For the hundreds of thousands of annual visitors to Harpers Ferry this lovely little village is a tourist destination: a scenic and historic spot for exploring, hiking, riding, rafting, learning and maybe even relaxing.
Yes, it is all that, but for its nearly 300 residents – including us! – Harpers Ferry is home. So, what is it like to live in a 255-year-old microtown, you ask?
We thought we would give you a little snapshot based on our mere year and a half of experience. (Ask us again in 5 years, and we'll likely write a totally different post.)
Harpers Ferry is definitely the smallest town either Christian or I have ever lived in, but if you haven't heard me say it before, we love it here. There are plenty of small towns across America, but hardly any others have such a large proportion designated as a National Historical Park and are visited by close to 500,000 tourists and adventurers annually. Yet, Harpers Ferry somehow maintains its sleepy, friendly, Mayberry character. When Christian turns onto Union Street after a round trip to the DC metro area for work in I-70 traffic, he says it feels like he has entered a bubble of tranquility. He treasures the step back in time that Harpers Ferry is.
As I work here from the house, I really enjoy the walkability of the Town. I have to drive 5 or 6 miles into Charles Town for grocery shopping, but when I need to buy stamps, I can just walk two blocks up the road to the Post Office, which shares its location with the Town Hall, the Police Station and Olde Towne Liquors. If I wanted to, I could mail a letter, pay the water bill, report a neighbor's annoying barking dog and pick up a bottle of Tito's all at the end of a short stroll. (That just cracks me up for some reason.)
On my way back, if it's a Thursday, Friday, Saturday or Sunday, I could stop and browse in the Gilded Flea antique store, and see if Wayne has any interesting new stock. First, though, I might walk another block up the road (technically in Bolivar now) to could get a delicious avocado turkey wrap and a vanilla raspberry nitro cold brew from Sarah or Dan at Rations Cafe.  Even better, on those evenings when I have been too busy to plan dinner, Christian and I can walk just around the corner to Mena's Pizzeria. We eat pizza there most of the time, but sometimes we enjoy the lasagna instead (or the gelato). Mena lives in the house next to us.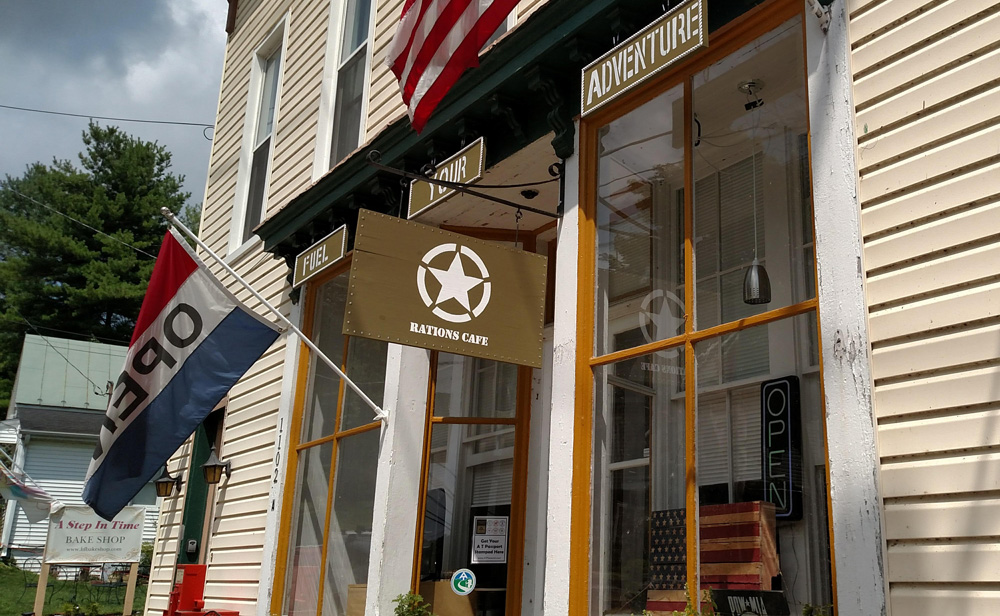 Of course, for living in such a small community, we have not yet exhausted the opportunities for exploration on foot. It's the coolest thing ever to just be able to visit Harpers Ferry National Historical Park ANY TIME WE WANT. Some mornings we pack breakfast and coffee and enjoy morning down at The Point watching the rivers roll on.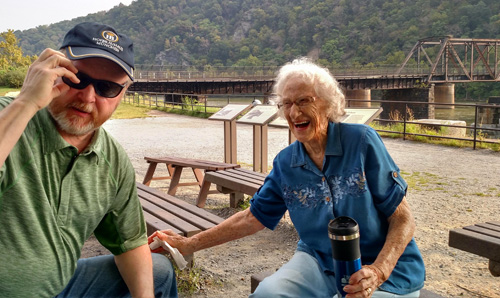 Our evening walks often take us to the site of the old Hilltop House Hotel for a gorgeous view of the Potomac we never tire of. Other times, we walk the backside of Harpers Ferry on West Ridge and Potomac Streets. Or we head into Bolivar and wander up and down the side streets. Wherever we walk, we always notice something new.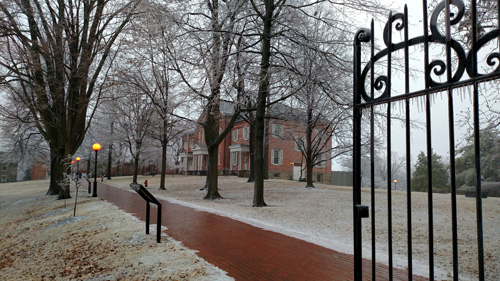 Having lived here less than two years, we haven't met everyone in Harpers Ferry proper, let alone the folks in adjacent in Bolivar. We have really friendly neighbors, though, and have met plenty of great people. They run the gamut from HF natives to recent transplants who, much like us, became enchanted with the town after a visit and decided to make it their home. Some work locally, others commute to the city. It's quite an eclectic and interesting mix of residents, and sometimes disagreements about Town matters run passionate. It's the natural outcome of people loving this place so much and wanting to maintain its charm, sustainability, historical authenticity, etc.
I needed to get out of the house more and start meeting more local women, so I joined the Harpers Ferry Women's Club last year. They provide lots of opportunities to serve the community, sponsoring annually a July 4 picnic, a fall flea market, the HF Home & Garden Tour house in the spring and other popular fundraisers.
The thing about living in such a small town that is probably most new to us is the high proportion of volunteer positions to residents able to or interested in filling them – in religious, social and professional organizations, but especially in the municipal government. Running a Town takes a LOT of volunteers. Christian has already been appointed to the Town's Historic Landmarks Commission.
We also joined the Harpers Ferry Merchants Association late last year, and I've been nominated to serve a term as the 2019 secretary.  I feel very honored to be counted among such a great group of officers. (By the way, there's a helpful spirit of collegiality among the B&B owners here that I very much appreciate.)
For the first time in my life, I live in the kind of house and have a work situation where I can take great pleasure in inviting people in – especially when it serves community causes. For the past two years, our place has been included on the Women's Club Garden Tour fundraiser. On December 1 this year, our house will be included on the Harpers Ferry Historic Inns Christmas Tour as a fundraiser for the Harpers Ferry/Bolivar Historic Towns Foundation during Olde Tyme Christmas. In late March 2019, we will be one of the hosts for a progressive dinner fundraiser for the annual Flip Flop Festival.
The really big deal is that late next April our house will be included on the 2019 House and Garden Tours of Historic Berkeley and Jefferson Counties. I started taking the annual tours years ago while living in Charlottesville. I love them and never dreamed I would one day have a home worthy of being visited!
If you can't tell by my enthusiasm, this little burg fits us perfectly, and we expect we're here to stay! Come on over and visit us when you can!